Corporate and Bespoke Driving Days
A V.I.P experience, with a difference!
A V.I.P experience, with a difference!
U Drive Cars are specialists in creating a bespoke driving experience. Our Corporate team have the skills and passion to meet your requirements and exceed your expectations. All of our staff work towards one goal and that is making sure your group have a truly amazing experience.
If your goal is development of current staff, building on relationships, creating a new working structure, entertaining clients or suppliers or simply to give back something to your staff then we can produce and define the most unique experience for you. We can design something as intricate or as simple as you require, with team building and problem solving activities, ensuring maximum results from your time away from your business.
We are experts at building driving experiences for business' small and large and we can build your experience around a morning, afternoon or full day(s). Our corporate team, truly can offer you the variation and flexibility that you need to make your day unforgettable experience!!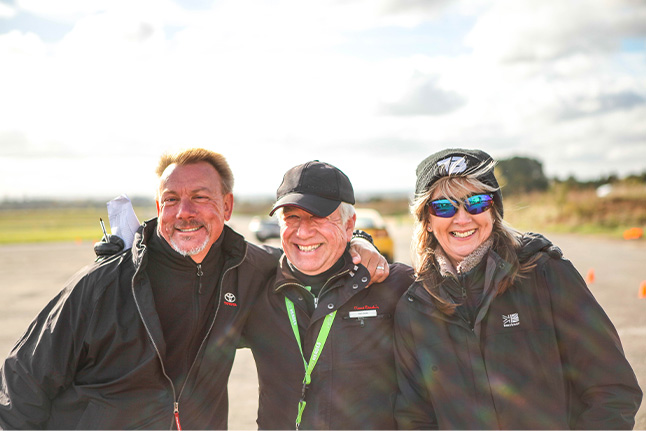 Volvo Trucks -

The day went fantastically thank-you – was thoroughly enjoyed by customers and colleagues.

Thank-you very much for the service you provided us in sourcing the cars. It was great to have them there and our guests really enjoyed driving them around the track. A particular highlight was the opportunity to experience a 'hot-lap' with one of the skilled instructors as her really put the cars through their paces and gave the passenger a thrilling ride.

The guys were brilliant – they put safety first which was very important to us and then made everyone feel comfortable in the vehicles, taking them around the track at a pace the driver was comfortable with whilst maximising the safety of them and all others around. They were knowledgeable and very sociable – encouraging and flexible – adapting to our demands throughout the day.

The cars themselves were brilliant. We didn't quite get what we had initially booked but this was partly due to a mechanical fault that came up on the Corvette the day before, meaning we had to swap with to a Camaro SS. We also ordered 2x MX-5 Mark 3 vehicles but only 1 Mark 3 MX-5 was in attendance – they must have swapped it for a Mark 1 version – but this didn't matter to us.

Thanks Again and Kind Regards
Alex
Volvo